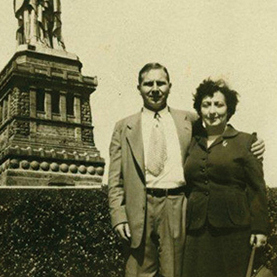 Founding Directors
Jerry & Goldie Lippman z"l
In 1966, Jerome Lippman (1913-2005) – known as Jerry to his friends, employees, and customers, and as "Grandpa Jerry" to the current generation of Kanfer family members – and Goldie Lippman (1911-1972) established the Jerome Lippman Family Foundation, later renamed Lippman Kanfer Family Foundation. Jerry and Goldie were committed to Jewish life and social justice for all in Akron, the place where they had founded their business and were making their life together.
The children of immigrants from Eastern Europe, Goldie and Jerry embodied the American dream. Jerry's parents came to this country in 1892 to escape the Cossack pogroms against the Jews of Lithuania. They settled in Buffalo, New York, where Jerry was born in 1913 as the seventh of eight children. His father sold vegetables from a horse and wagon. At Buffalo Technical High School, Jerry learned pattern making, foundry work, woodworking, math, and drafting and nurtured what would become a life-long interest in tinkering to create new and useful tools and devices.
Goldie, the second oldest of four children, was born in Cincinnati and moved with her family to Akron. Her father was a cabinetmaker. She was a voracious reader, an avid card player and a shrewd small-time investor.
Jerry's tinkering and Goldie's perspicacity led them to become entrepreneurs and inventors. In 1946, Jerry and Goldie founded GOJO to solve the problem Goldie and her co-workers faced after a hard day's work in the local rubber plants: how to safely remove carbon black from their hands. They invented the first easily rinsed off heavy-duty hand cleaner. Jerry made the hand cleaner at night in his garage and sold it out of the back of his car during the day. Goldie managed the office and was in charge of bookkeeping and purchasing. The company was originally called GoJer for Goldie and Jerry. In 1952, Jerry patented the first portion-control dispenser.
Goldie had a keen business sense. In 1959, when Jerry nearly lost the business to an unethical lender, he struggled to raise the money he needed until Goldie, who had quietly been investing in the stock market, delivered the final dollars needed. Unfortunately, Goldie's life was cut short when she passed away in 1972.
Jerry, mentored their nephew Joe Kanfer, as they continued to build GOJO into the global leader in skin health and hygiene solutions. It is well known that Jerry told hundreds of employees over the years: "Everything I know I learned from someone else." His love of learning continued throughout his life and was exemplified when he became a bar mitzvah in 1990 at the age of 77.
Foremost among Jerry's many philanthropic interests – both in the Jewish community and the community at large – was his support of Akron's Jewish day school, Hillel Academy, to which he provided the first seed money. Hillel Academy grew over the years and, in 1988, was renamed in his honor as the Jerome Lippman Jewish Community Day School. Today, it is known as The Lippman School.
Jerry was a member and dedicated supporter of many civic and Jewish organizations. He was life member of Temple Israel (Akron), Beth El Congregation (Akron), Anshe Sfard Revere Road Synagogue (Akron), and Touro Synagogue (Rhode Island).
Jerry used the Yiddish phrase "an oremeh huckster's, a zun" to describe himself. He was the "son of a poor peddler," a self-made man without self-importance. He knew he was no more and no less special than anyone else. He often said, "You too can do what needs to be done. Go, do what needs to be done."
In 2005, at the age of 92, Jerry died in Akron where he built GOJO, nurtured Jewish education, and was friend and benefactor to charitable endeavors.